by Lorraine McCarty
Longtime KEC member Rick Feinberg wrote the following poem years ago after a hike through the Cuyahoga Valley National Park, where his son decided to "wash" his hands in Brandywine Creek. 
River of Illumination
There's a chemical solution where you go for your ablution
In the River of Pollution that is flowing through the Park.
From the muck and from the mire rise the molecules of fire
As the flames burn ever higher and illuminate the dark.
Well, the polluted and burning-river image is being put to rest this year on the 50th anniversary of the last fire on the Cuyahoga River, the one that appeared in Time magazine and helped spark the environmental movement and the Clean Water Act. The Cuyahoga River was named "River of the Year" by the group American Rivers in honor of all the hand work that groups have done to clean and restore the river and make it an example for the rest of the country. 
All along the Cuyahoga River this year, the Xtinguish Torch Fest helped to highlight the progress that has been made. In Kent, the event was sponsored by the Kent Environmental Council, Davey Tree, Hometown Bank, Kent Parks and Recreation Department, the Portage Foundation, the Portage County Stormwater District, and the city of Kent. Many other groups and individuals donated money or their time to help plan the event.
There were many environmental exhibitors and food vendors for attendees to visit, and the Wick Poetry Center was helping people write more poems about the river. Although the rain canceled two band performances, music played from speakers on the Main Street bridge as Hal Walker rode in a bicycle cab while playing his instrument. The Kent Women's African Drum Ensemble played from the river level, as experienced kayakers braved the very high and fast-moving river, and Marlys Rambaugh brought the torch in from the river's source in Geauga County. Speakers talked about the improved habitat for fish and invertebrates, the increase in wildlife, healthier water and environment, and increased recreation on the river and on trails nearby.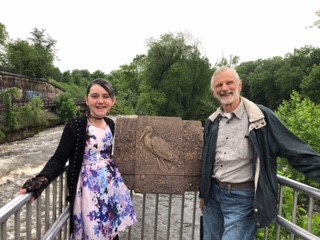 A relief sculpture by George Danhires was installed on the railing below the bridge overlooking the river and formally dedicated. The image is of the river and a blue heron, which is a regular visitor to the waterway in Kent. The sculpture also displays the following poem written by fourth-grader Kora Mendez, which she read aloud during the ceremony:
The river knows that place in your mind that flows.
You can feel the rocks on the bottom of your feet.
And then it takes you home.
The torch was then passed to Elaine Marsh to take it to Cuyahoga Falls. From there, the torch was carried though the Cuyahoga Valley National Park and up to the mouth of the river in Cleveland.
Catherine Ricks from the Kent Parks and Recreation Department summed up the event best when she said: "The synergy of the torch festival team, public and participants was incredible and the rain feeding the energy of the river only heightened my awareness of the Cuyahoga being the reason we were gathered there. The river was singing her own renaissance song . . . loud and clear. We all followed her beat."